Solar Hot Water Systems
CEMA solar hot water heating system is specially designed for hot water supply for both residential and commercial. It uses an efficient pump with a smart controller to circulate water in the system through a storage tank and the solar collector. While the collector is installed onto the roof of the building, the tank and the controller are separately installed inside of the building. The piping line between the components is made by copper and a special insulation with high temperature resistance is used for the solar heating system. An anti-freezing function in the smart controller has been implemented to enable the use capability of the system during freezing periods in winter.
Split tank collector system.
High effeminacy evacuated tubes collector with ultra-selective coatingenabling high absorption and low emission.
Up to 40% improvement over flat plate collectors on cloudy days.
Enamelled storage tank provides superior corrosion resistance.
Electrical or Bosch gas back up enabling operation while overcast or rainy.
Smart controller with multi-sensors enabling featuring controls and intelligent controls.
Anti-freezing control and over-heating-protective control.
250L to 400L hot water capacity with four-season constant service.
CER registered and WaterMark, AS/NZ-2712 certified.
High STC & rebates available.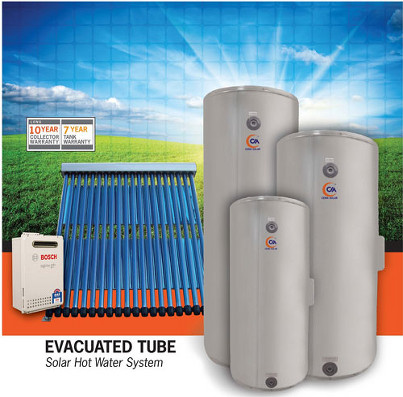 <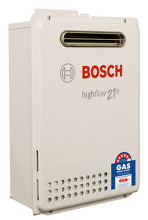 To discuss any CEMA Solar hot water heating systems, contact us at CMA Solar on 1300 301 594. We'll be happy to discuss what options are best suited to you.